Human Planet ruins wedding!
by Patrick Murray, Technical Assistant, Cardiff
When I started on Human Planet as the Technical assistant I didn't know what I was getting myself into.  Turns out it was Rivers, Urban, Arctic and Mountains.  In the last seven months I have been involved in sequences ranging from Mud Mosques to Bats and the ever elusive Narwhal.  It has been a fantastic experience being involved in the roller coaster that is HUMAN PLANET!
But like anything this good, it has its price….WORK!  And lots of it. From putting tissues into cleaning kits to debating physics with engineers, my role really does encompass everything and anything.  My day consists of making sure the Human Planet kit is where it is meant to be, doing what it is meant to be doing.
 The aspects of my job I most enjoy are coming up with ways to film difficult and often dangerous situations. We like to think big at Human Planet but we also like to think cheap!  This can be a challenge when asked to come up with a Steadicam that attaches to the front of kayaks and then HD Pole cams that mysteriously turn into A1s (small cameras) on boom poles. All in all we manage to get the job done and to an incredible standard, thanks to the amazing crews we put together.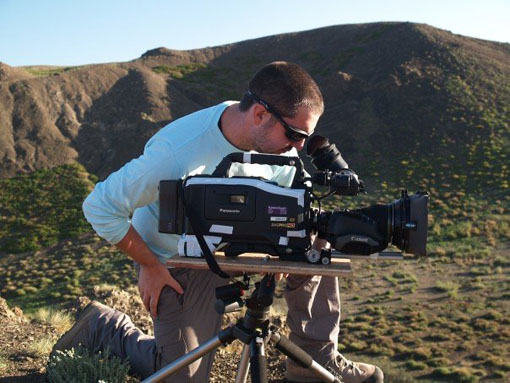 Recently I was given the opportunity to go on a shoot to Austin, Texas filming 1.5 million Mexican Free-Tail Bats that live under the Congress Bridge. I guess I was in the right place at the right time because I got to go by myself to direct part of a sequence. My mission was BAT FEST!  A once a year extravaganza that encompasses two stages, several bands and lots of Austinites celebrating the day the bats move in and turn the agriculture around Austin into a moth-free organic wonderland.
 After frantically getting permits and a local crew together, I flew out on a Friday evening, thanks to the help of Andrea Jones and Kate Borde.  Once in Austin I had a morning to recce the location and meet the local organiser.  Then it was straight down to a pontoon raft we had arranged, through city officials, to stand on to film the emergence of the bats. We had just set up the jib and practised some moves when to my disbelief, and then horror, I saw a full wedding party standing behind me wondering what we were doing ruining their special day!  After a brief discussion with the bride, her party very kindly moved a mile downriver.  I felt a bit guilty but very pleased to get the shot!
With my soul scarred, we got some great shots of the bats heading out to feed and then headed up to the bridge to take in the Texas air and to get some bat fanatics -. while avoiding annoyed looking men in tuxedos! By midnight I was spent and we called it a night, no beer for me, straight back to the hotel and to bed.  Sunday I was up packed and off to the airport to fly back to London.   36 hours in Austin Texas, that's what I call a weekend!