by Cecilia Hue, Assistant Producer, Deserts/Grasslands Team 
This is my last filming trip for 'Human Planet' and I am going back to Mali, which has become my second home since I joined the Bristol team a couple of years ago.  The journey starts with the most extraordinary beginning, the stuff of Hollywood movies.  A volcano which no-one has ever heard of, with an unpronounceable name, erupts in Iceland and spews so much volcanic ash into the air that European air space has ground to a halt - the morning we were supposed to fly to Mali!  What would normally take five and half hours by plane ends up taking over 100 hours!  Our production co-ordinator Isabelle Corr cool as a cucumber, as ever, (see photo below!) cunningly devises a roundabout route via ferry to northern Spain, a drive to Madrid and two flights that finally land us in Bamako, Mali. 
We are determined to make it in time for an event which only takes place once a year: a fishing festival in the desert, possibly the most dramatic sequence in the Deserts programme.  Once in Mali we still have a two-day journey by road before we get to location.  It is incredibly hot, 45 degrees (which for those who have never experienced it feels like having your head stuck in an oven ), we get  punctures, and an incredible sandstorm which leaves the whole team caked in a layer of orange dust.  We look as if we've all been 'Tangoed'!   
We finally arrive in the Dogon village of Bamba, built among boulders at the foot of an incredible 500 m high escarpment which cuts through the monotony of the Sahel for over a hundred miles.  Everything here is parched as the dry season reaches its peak, leaving only one sacred pond full of catfish (which have retreated to this last haven as all the rivers dried up).  
It's 7am on Saturday 24th April.  The day of the fishing festival has finally arrived.  The Dogon are very superstitious.  Women are not allowed anywhere near the sacred pond.  As I am the only woman in the team I am gently ushered away from the scene by my fixer.  I am told that I might lose my fertility if I stay.  Frankly, I am not prepared to take any risks so I join the other women in the village.  They are all busily getting ready for the celebration – braiding their hair and pounding millet for the big feast.  
In the meantime, the crew is preparing to film the fishing frenzy which will last no more than 15 minutes and is unrepeatable for religious reasons. There's no room for error.  4000 bare-chested men -including our character Amadou - have turned up to the pond the size of an Olympic swimming pool, armed with their cone-shaped fishing baskets, ready to charge in.  They hope to catch a fish or two.  If they do, they believe it will bring good rains and a subsequent abundant harvest for their family and their village.   
Our character is fortunate to have made it to the festival.  The day before, he almost got kidnapped from the film set by a mob of angry men from the neighbouring village.  We had caused deep offence by bringing his fishing basket onto their territory.  We soon discovered that the basket was a painful reminder of the village's defeat against Bamba in the battle for control over the pond.  We had made a terrible basket faux pas!  We apologized profusely to Amadou's arch enemies and were asked to give a small payment to repair the harm. 
To see the full story of the fishing festival, look out for the "Human Planet"  Deserts  programme!
---
by Jane Atkins, Researcher, Deserts and Grasslands
My love affair with the Sahara started last year when I was looking for the most impressive and beautiful place to film people searching for water in the desert.  Like any love affair, the last few months have seen me totally in love with the Sahara, telling everyone about it, then the next moment immensely frustrated, tearing my hair out and cursing it, never wanting to go back!
 The story starts back in March when I started looking into desert wells. Essential to life in the desert, wells are found in every desert known to man, but one passionate Italian geologist whispered down the phone, 'I can tell you the best place of all.' As the UNESCO consultant on desert areas, he had seen more sand dunes than I could imagine, so I was keen to hear his words of wisdom. 'Algeria' he said.  Hmm.. not somewhere I had ever wanted to go, but who knows.. I might be surprised.
 So a few weeks later I was on a plane to Algeria, and then flying from the capital, Algiers, to a small town called Timmimoun.  From the window of the nearly empty plane, all I could see was desert- golden dunes, then stretches of flat hard baked desert rock, big escarpments and dried out river beds snaking through the emptiness.  We flew for three golden hours and still the desert stretched on.  I hardly saw a soul down there, a few small towns in the middle of nowhere, but that was it.  How on earth do people live here?   And why?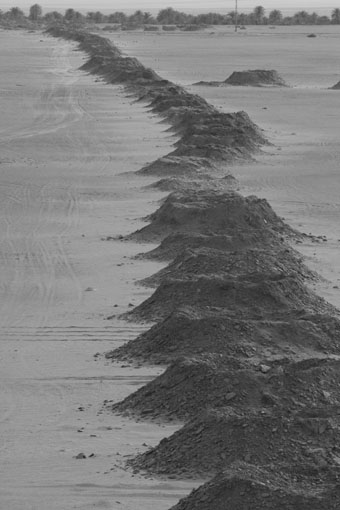 This was my recce, my first visit to Algeria and this extraordinary part of the Sahara.  From the moment I stepped into the heat and saw the dunes I was in love.  It was magical.  And when I saw the desert wells, I was astounded.    I had never seen anything like this.  There was not just one well or two here in the desert, but hundreds and thousands.  Individually they looked like huge mole hills, but in a long line this lunar landscape looked as if it had been blasted by a bomber plane.  Amazingly, some of these wells were 600 years old and the system they are based on dates back to 5000 years ago.  Incredibly, even today these wells and passages are still the only source of water for some people here.   
I took photos, recced other locations, met people who dig these wells, and others who farmed small gardens in the desert.  I wrote shot lists and planned how to reveal this incredible landscape and tell this story.  A week later I was back in the office and writing applications to Algerian officials to get permission to film and import a hot air balloon for aerials.  That was back in May.  Between then and my Algeria shoot I was filming in Kenya but Algeria was always on my mind.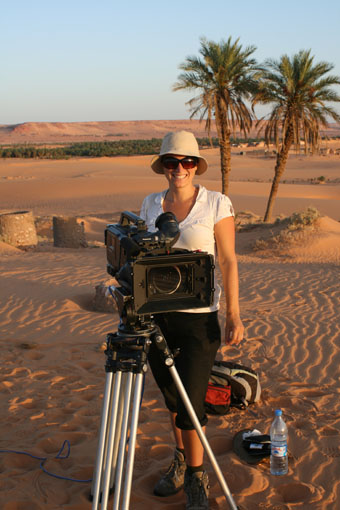 But as the shoot got nearer, I was beginning to tear my hair out.  My Production Co-ordinator (the lovely Isabelle Corr) and I had written more letters and filled in more paperwork than I care to recall.  I was hoping that Algeria would welcome a filming project revealing its extraordinary natural heritage, but there were so many hurdles to cross, I wasn't sure I wanted to go back! 
At the end of August we finally received our filming visas, and then the unimaginable happened.  The wonderful sound recordist I was hoping to go to Algeria with, died in a tragic accident. I could not believe it.  He was so full of life and energy.  Filming out there would not be the same without him.   And then a week later, the safety climber we were supposed to be taking also had a serious but not fatal accident; falling from a cliff while climbing.   With only three weeks to go until the shoot, we had to find new crew and get them visas in quick turn around time.
Then there was another blow.  Sadly, one very important bit of our kit was refused.  We were not allowed to bring in the hot air balloon.  I had hoped to film aerials over the Algerian desert, giving a spectacular bird's eye view of these strange and ancient wells, and the beautiful villages and gardens but, despite providing every insurance document and licence, the authorities said No.  Dany, the hot air balloon pilot, who shot beautiful aerials of the Niger desert for us last year, was as disappointed as we were but so as not to risk the rest of the shoot, we  had to cancel that aspect of the filming project.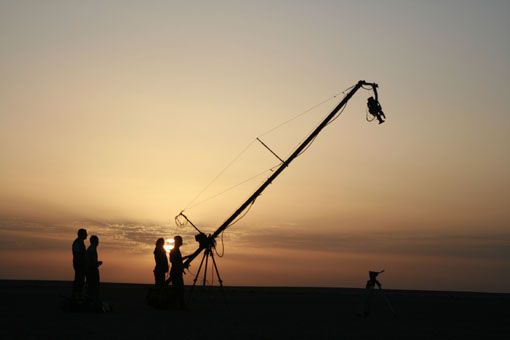 It is now November and I am back from Algeria.  After the rollercoaster summer preparing for the filming trip, I can say with huge relief that we did finally get ourselves and our kit into the desert.  Under the 45 degree heat of the Sahara, the team managed to build a climbing rig over the wells to lower our cameraman 15 metres into the desert rock, where it was cool, dark and quiet.  Our great cameraman (also an expert caver) Gavin Newman managed to squeeze through the tiny manmade passages to film Mafourdi, a sweet 70 year old man, nimble as a 17 year old, as he descended to meet him in the darkness.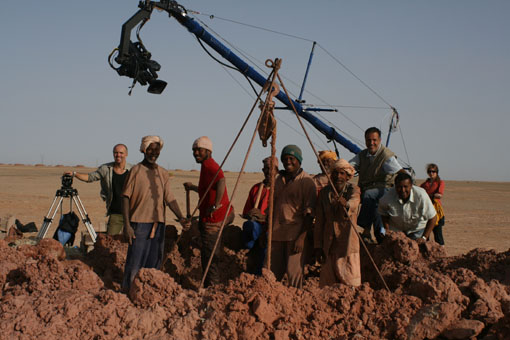 From the surface I stared nervously into the dark hole.  I could hear tapping and rocks falling as more rock was drawn up in buckets.  Communicating by walkie talkies, I blindly suggested shots to the cameraman, as it was too tight for me to go down inside the wells too.   As I tried to focus on getting the shots to tell the story, I tried not to think of tales I'd been told about passages collapsing, trapping workers inside in dark desert graves.  Luckily this was not our fate.  You'll have to watch the Deserts film to see the whole fascinating story but for now, all I can say is that thankfully this rollercoaster ride ended well, and give a huge thanks to the team - Isabelle, Gavin, Willow, Sam, Said and the Ba'amar guys - for all their hard work!
---
by Dale Templar, Series Producer
So what is Human Planet? Human Planet is a new 8×50 minute landmark documentary series being made by BBC Television. The series celebrates the human species and looks at our relationship with the natural world by showing the remarkable ways we have adapted to life in every environment on earth. It is due to be transmitted in the UK in the New Year 2011 and will be rolled out across the world soon after.
The production team is split across two sites, one in Bristol and one in Cardiff.
In BBC Bristol we are part of the world renowned Natural History Unit. You may have heard of us, but if not, you've probably watched some of our programmes. Many have been presented or narrated by Sir David Attenborough, like Planet Earth and Blue Planet. Most recently we've just finished Nature's Great Events which our own executive producer, Brian Leith, worked on.
BBC Wales, based in Cardiff, are probably best known in the UK right now for producing high end popular dramas like Doctor Who. Torchwood, another sci-fi doc that comes out of Cardiff, is also an HD production and Human Planet will be using the same excellent post-production facilities. The factual department is best known for its ground-breaking anthropology documentary series Tribe.
In total we have a core team of 20 phenomenally talented programme makers, who come with a wide range of skills and experiences. Working with us are some of the best wildlife and documentary camera crews and fixers in the world. For the first time we have a dedicated stills photographer, Timothy Allen, who will be posting his own Human Planet blog every week at http://timothyallen.blogs.bbcearth.com/
The series started in full production in the summer of 2008 and we will be shooting over 70 stories in some of the most remote locations on earth in around 40 different countries.
Each episode will focus on one single environment: desert, jungles, arctic, grasslands, rivers, mountains, oceans and urban. Many of the stories are extremely dramatic and will show how we have successfully adapted and survived in the most challenging places on the planet.
As from next week each member of the team will be blogging their stories from the Human Planet. I will keep you updated on where everyone is and give you general news about the series.
Currently, we have teams that have just come back from the remote southern region of Mongolia, filming for the desert episode. On location are the Jungles and Mountains team who are in the Central African Republic and Nepal. I'll let you work out which team is where!
That's it for now …enjoy the photos and the sneak preview from the series. See the link if you'd like to read what Timothy Allen's been up to and don't forget to explore the new BBC Earth site too. Look out for the regular Friday posting from the Human Planet team, with fascinating stories and tales from both our many locations and from the office.
---